BYU Astronomical Society Officers
President: Michael Holland
Michael, a senior in BYU's computer science program with minors in astronomy and geology, aspires to apply machine learning and AI to space science. His passion for astronomy ignited at a young age at space camp at the Christa McAuliffe Space Center and while watching NOVA documentaries with his mom during his father's deployment to Afghanistan. Beyond academics, he revels in the great outdoors, finding joy in long-boarding with friends, rock climbing, stargazing, surfing, and more. Michael's life harmonizes the realms of technology, nature, and the cosmos, forging a path of endless exploration and discovery.
Vice President of Finances: Nik Mohsen
Nik, a junior in of physics and astronomy department, dedicates himself to the pursuit of knowledge through textbooks and diligent homework. Gaming beckons to him, particularly the allure of sci-fi realms and classic titles like Smash Brothers and Halo. On weekends, he relishes board games with neighbors and cherished romantic walks with his beloved wife. Nik possesses an exquisite palate that revels in the finer flavors of life. Beyond personal interests, his visionary ambition seeks to eradicate fossil fuels, championing the universal adoption of clean and sustainable nuclear energy. His academic journey into physics and astronomy commenced with an unwavering belief in its intrinsic coolness, making him a passionate advocate for these captivating disciplines.
Vice President of Activities: Josh Miller
Josh, a distinguished senior within the esteemed realm of the physics and astronomy department, hails from the picturesque landscapes of Idaho, where his profound affinity for the great outdoors was nurtured. Amidst the rigors of academia and the captivating pursuit of studying variable stars and enigmatic brown dwarves, he frequently finds solace amidst the craggy embrace of Rock Canyon, scaling its vertiginous cliffs or venturing deep into its labyrinthine canyons with an unwavering spirit of adventure. An intriguing facet of Josh's multifaceted persona is his unwavering passion for marathon running, a testament to his enduring stamina and unyielding determination.
Vice President of Public Events: Carson Chubbuck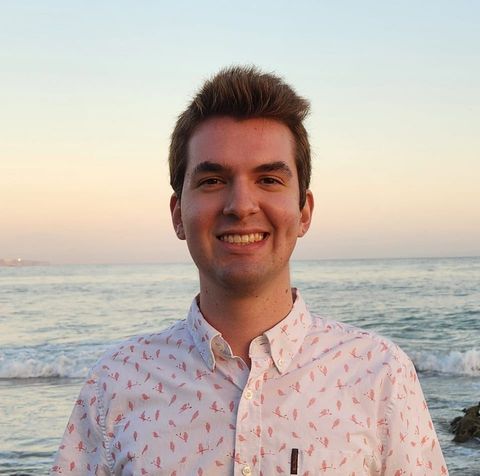 Carson, a junior immersed in the major of cyber security, hails from the sun-drenched expanse of Los Angeles, California. His remarkable dexterity shines through in his ability to solve Rubik's Cubes, a feat accomplished with astonishing swiftness, a mere 11 seconds sufficing for his mastery. The quietude of quarantine ignited a spark of curiosity within him, leading to an enchanting exploration of the night sky through dedicated research. Carson's convivial spirit finds expression in the cherished moments spent with friends, while his culinary passions lean toward crafting delectable dishes featuring the harmonious pairing of noodles and rice.
Vice President of Outreach: Lydia Klopff
Lydia, a junior majoring in Physics and Astronomy from the chill of Michigan, thrives in the outdoors, cherishing nature, insects, and running. Her heart is captivated by the timeless saga of Star Wars, specifically inspired by her hero Anakin Skywalker. Her celestial passion ignited in an astronomy class, guided by a professor who imprinted his own love for the cosmos upon her heart. Classical works like Pride and Prejudice hold a special place in her literary affection. Lydia's caring nature extends to her beloved friends and family, finding utmost joy in their company. Beyond her academic pursuits, she wields impressive skills in automotive repair, intimately familiar with every facet of her trusty Volkswagen Beetle.
Vice President of Communication: Raymond Kelly
Raymond, a junior in the Physics and Astronomy Department, is renowned for his exceptional sense of responsibility, serving as a dependable club officer. His unique passions include a fascination with dinosaurs and a heavenly voice that graces the performances of the BYU Men's Chorus in prestigious concert halls. Originally from Houston, Texas, Raymond enjoys spending time with his wife and immersing himself in literature. He actively participates in the ESports club, focusing on the latest Main Line Pokémon Game, Pokémon Scarlet and Violet. Raymond's academic journey shifted from Mechanical Engineering to Physics and Astronomy, driven by his profound passion for learning and the captivating mysteries of the cosmos.
Primary Faculty Advisor: Dr. Benjamin Boizelle
Dr. Boizelle, a dedicated professor, delves into the enigmatic realm of black holes, probing the universe's most peculiar phenomena. Hailing from Utah, he completed his undergraduate studies at BYU in 2012 and furthered his academic journey with a Masters and Ph.D. in Physics and Astronomy at the University of California, Irvine. While not immersed in the pursuit of knowledge, instructing, and researching supermassive black holes, Dr. Boizelle finds solace in the company of his daughter and wife during serene evenings. He also extends his care to older rescue dogs, offering them a loving home where they can find comfort and companionship.
Planetarium Director: Dr. Jeannette Lawler
Dr. Lawler, the esteemed director of the planetarium and the virtuoso orchestrator of telescopic marvels. Her reputation as a master in public engagement precedes her, forged through academic journey crowned by dual bachelor's degrees in the disciplines of physics and mathematics, while her scholarly journey culminated in the attainment of a distinguished PhD in Physics. Her early research strides led her into the profound realm of fusion, where she probed the mysteries of the universe's most powerful reactions. Yet, her current scholarly pursuits have shifted towards the field of physics education, where she is devoted to illuminating the path of knowledge for eager and aspiring minds, nurturing the next generation of physicists and educators alike.