Harvey Fletcher, BYU's first Physics graduate wins a posthumous grammy award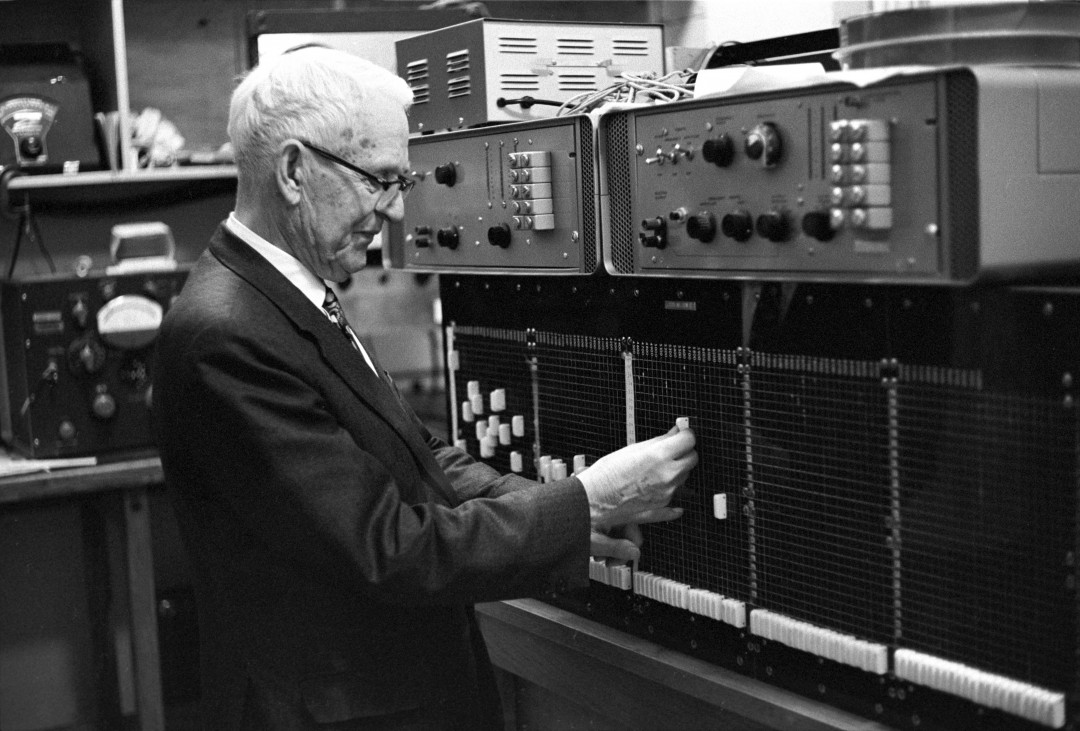 Photo courtesy of BYU Photo
Throughout his life, Dr. Harvey Fletcher boosted BYU's reputation through an array of impressive accomplishments. Fletcher, BYU's first ever physics graduate, will bring recognition to his alma mater once more this spring by winning a Grammy Award.
The Recording Academy chose Fletcher to win a posthumous Technical Grammy Award for his work with Leopold Stokowski and the Philadelphia Orchestra. This partnership produced over 100 of the world's first stereophonic recordings, or recordings using multiple independent audio channels. Today, Fletcher is known as the father of stereophonic sound.
Fletcher was born in 1884, and graduated from Brigham Young Academy in 1907. He took a little convincing before coming to BYU, and failed his first physics class upon arrival. As time passed, however, Fletcher began to show great aptitude for the physical sciences; particularly acoustics.
After teaching at BYU for one year following his graduation, Fletcher moved to Illinois to pursue a PhD at the University of Chicago. During his time there, he worked with Dr. Robert Millikan on the revolutionary "oil drop experiment," for which Millikan received a Nobel Prize in 1923. Fletcher graduated summa cum laude from the University of Chicago in 1911.
After his time at the University of Chicago, Fletcher returned to BYU as the head of the physics department and remained until 1916. He then joined Western Electric as a researcher, and later became the director of physical research at Bell Labs.
But it was Fletcher's passion for music, particularly music reproduction, that led him to become the father of stereophonic sound and receive his Grammy Award. His work with the Philadelphia Orchestra would later become the foundation for electronic sound recording.
Fletcher was the first to successfully record stereo sound, perform a public demonstration of stereophonic sound, and transmit stereo sound live. He also produced the world's first vinyl recording, at 60 dB dynamic range and 10 kHz bandwidth. All of these scientific breakthroughs were accomplished within two years, between 1932 and 1933.
Fletcher's was a life filled with firsts. Aside from his work on the oil-drop experiment and the orchestra, he is credited with the creation of the first functional hearing aid, artificial larynx, and 2-A audiometer—a device still used today to diagnose and assess hearing loss. He was also the first person to graduate summa cum laude in physics from the University of Chicago, and the first Dean of BYU's College of Physical and Engineering Sciences.
Additionally, Fletcher was the first president of the Acoustical Society of America, and the second person to be elected an honorary fellow of that society. The first was Thomas Edison.
Despite his many professional accomplishments and awards, Fletcher also made time for family and membership in The Church of Jesus Christ of Latter-day Saints. He was the father of seven children, and was known for his kindness and wise counsel. He served many years as a branch president, and later as a stake president, in New York. Fletcher even authored a Sunday School manual called "The Good Life" in 1961.Given the success of Dr. Harvey Fletcher in his career, family, and spiritual life, it is no wonder that one of BYU's engineering buildings bears his name. His reputation, only made more public by this year's Grammy Award, still lives on at BYU.
Related Articles:
Utahn Who Pioneered Synthesized Stereo Sound Will Receive Posthumous Grammy
Utah's Harvey Fletcher to Receive Posthumous Grammy
Utah Inventions: Harvey Fletcher, the Father of Stereophonic Sound
More Information on This Article
News and Events