BYU GALs Program Sheds Light on Physics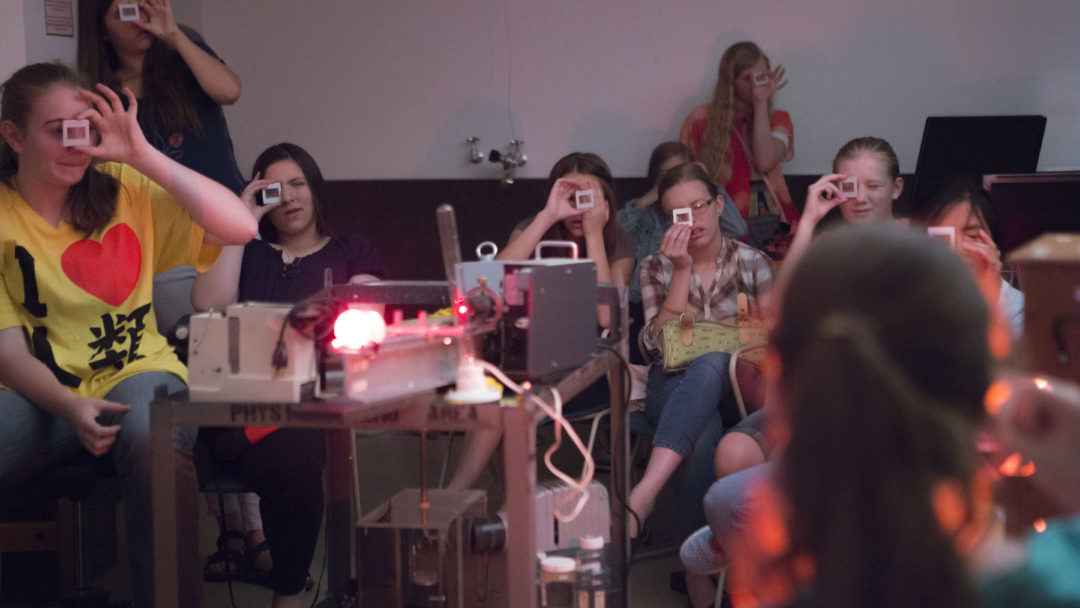 On May 31 and June 7, 2016, girls age nine through sixteen came to BYU to discover physics. For the past four years, BYU Physics professor Dallin Durfee has brought physics to life and "light" for these students through a program called BYU Girls and Light (GALs).
The program's primary purpose is to introduce girls—often underrepresented in the sciences—to physics. Durfee said his goal is not necessarily to bring more girls into the field but rather to show that they can "do science" and have fun with it too.
This year, the BYU gals created holograms, printed 3D models, and learned about the science behind tuning music.
Walk into the room during this outreach program, and one would see elementary, junior high, and high school aged girls adjusting red lasers, shooting them through 50 mm and 250 mm lenses. The students were looking for fringes, or patterns of the laser reflected off white paper.
Each girl could personalize her scientific experimentation. One girl put the "Hunger Games" mocking jay on her 3D-printed medallion. Another girl used her brother's toy knight as a model while making holograms.
More than one participant enjoyed the interdisciplinary approach to music and physics.
"One of my favorite subjects is science, but I also really like the arts, so the music stuff that we did relating to the frequencies was very interesting to me because I play musical instruments," said fifteen-year-old Jaylee Bastian.
Bastian said that understanding the physics behind percussion instruments, which she plays, can inform musicians the best way to play an instrument. When playing the xylophone, for example, it is best to play at the center of the different keys because there are no nodes and more resonance.
Alexandra Hardman, the youngest participant at nine years old, said her favorite part was working with the laser and making the holograms.
"It's fun to play with light…I want to be an inventor when I grow up, and I might need light if I want to make a hologram you can touch and feel," Hardman said.
Durfee said it doesn't matter whether these girls choose to go into science because science is important for everybody. Another participant, 15-year-old Isabel Adams, agreed.
"They [science and everyday life] intersect more than we give them credit for," she said. "I guess science is always present but we don't always think about it."
More Information on This Article
News and Events