Harold Stokes: Dr. Superman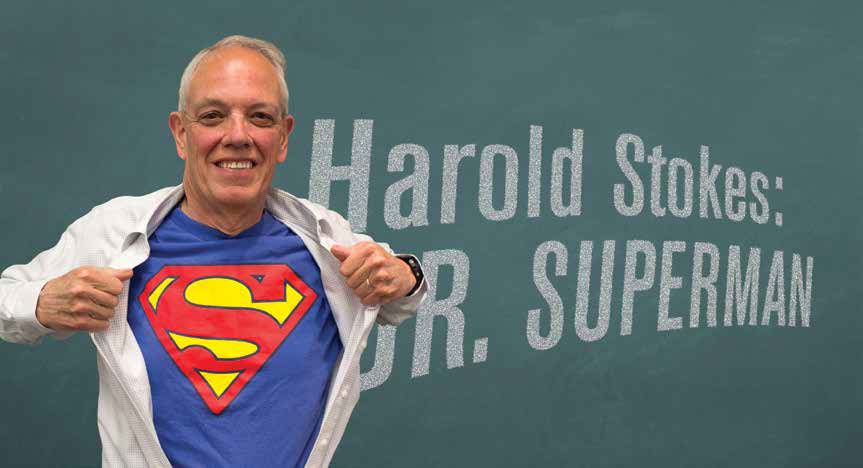 To demonstrate the force of atmospheric pressure in his physics classes, Dr. Stokes shoots a Ping-Pong ball through a vacuum cannon. The cannon is fired first at the wall, then at a piece of 1/8-inch plywood (which it easily breaks through), and then at his stomach.
Bravely wearing an apron with a large target, Professor Stokes stands in front of the cannon without any artificial protection, except what he calls his "natural padding."
At the end of the demonstration, Stokes admits he does have one secret protection, and then opens his dress shirt to show a bright blue Superman T-shirt underneath.
Despite his steely response to the impact, he confesses to his class, "Actually, that really hurt." He then reveals a large, red welt on his stomach. While a Ping-Pong ball is lightweight, once it gets going at 70% of the speed of sound, it's bound to make an impression. However, Dr. Stokes is less worried about the pain and more interested in the impact it makes on his students.
"I always try to put twists in the demonstrations like that," Dr. Stokes said. "I add little, unexpected things if possible and relate it to physics."
Born for Physics
Harold Stokes considers himself a natural physicist. In high school he knew he wanted to be a physicist, and he never changed his mind. From Long Beach, Calif., Stokes came to BYU as an undergraduate and loved every minute of it.
When he needed to use computer calculations in his undergraduate research, he bought a book and taught himself how to program computers. This self-training has been instrumental to Stokes' career as a computational physicist.
After completing his Ph.D. at the University of Utah, where he met his wife, Stokes completed his postdoctoral program at the University of Illinois before being hired as a professor at Brigham Young University.
"I have never regretted the decision to work here at BYU," he said, "I have had a wonderful 30 years getting paid to do something that I love so much."
The Man Behind the Clicker
A sign hanging in his office serves as Stokes's personal career motto. It reads, "Choose a job you love, and you will never have to work a day in your life."
One way his love of career is manifest is in his efforts to improve teaching through various technological innovations. He was the first professor on campus to use clickers, electronic remotes that allow professors to instantly quiz students and record their scores digitally.
Several years ago, Dr. Stokes worked with the Information Technology to set up this technology. Originally using infrared clickers, BYU classes now employ clickers with Radio Frequency, which requires much less infrastructure. These are now used throughout campus giving all students a voice, regardless of the class size. This has altered classroom structure by increasing interaction, all because of Dr. Stokes' persistence and foresight.
Additionally, Professor Stokes implemented a system for privately posting scores and grades online. He also uses a PC tablet, a touch screen device that combines handwriting and slides, in the classroom instead of using classic overhead transparencies or Power Point slides.
When he attends national physics teacher conventions, Professor Stokes is always looking for new technology to bring back to Provo. Recently, he found something else that may be implemented in the future: a device that allows a portable tablet to project on classroom walls via WiFi.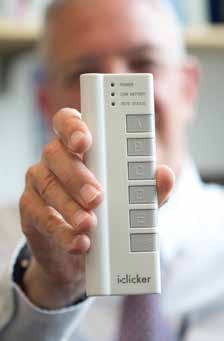 Living with Prosopagnosia
"When I was younger, I didn't know what was wrong," said Dr. Stokes. "I didn't know why I wasn't recognizing people. I didn't know it was a real disability that I had."
Dr. Stokes deals with a disorder called prosopagnosia, which impairs his ability to recognize faces. "It takes me all semester to learn 15 faces," he said. "And sometimes, I still can't recognize them by the end of the semester."
Though this disorder has led to some embarrassing situations, Professor Stokes said that he has basically learned to live with it. "I'm a physicist, and we tend to not let social situations get us too embarrassed. We generally lack social skills already. So, in some ways it fits in with my profession."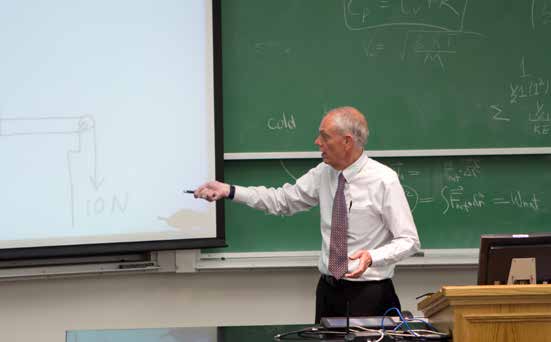 The Future of Dr. Superman
Many ask Stokes if he will ever complete the Ping-Pong cannon experiment again.
"My wife hated it whenever I shot myself," he said. "Last winter I taught two sections of Physics 105, and I decided that I didn't want to shoot myself twice in the same day. That gave me reason to videotape the demonstration."
Now that he can use the video to complete the demonstration, Professor Stokes does not plan on shooting himself again anytime soon. "I've lost a lot of weight since then," he said. "I'm afraid I don't have enough natural padding now."
Written by: Alysa Hoskin (CPMS Frontiers, Fall/Winter 2011)
More Information on This Article
News and Events