Craters Come to Astrofest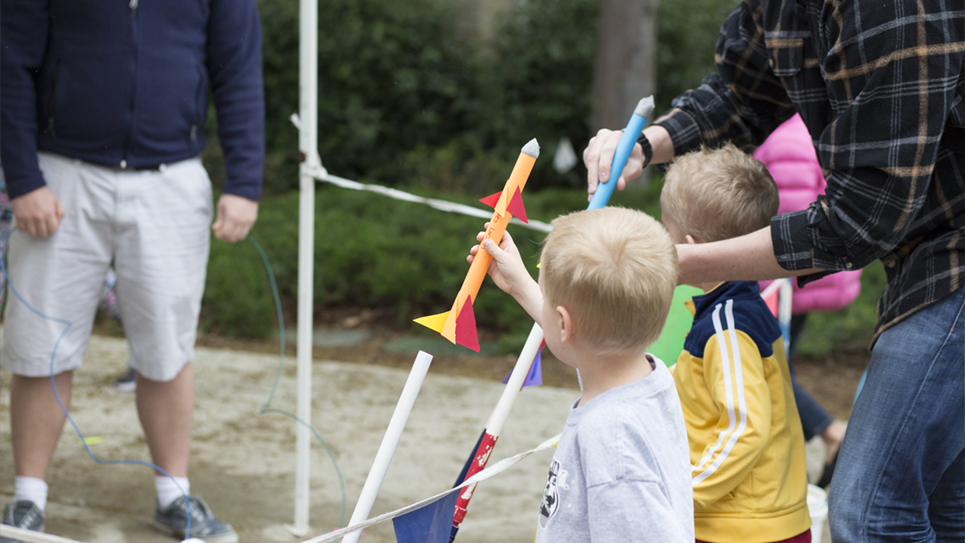 The Eyring Science Center exploded with life as people of all ages made star charts, rock climbed, slid down blow-up slides, built rockets and paper airplanes, and viewed countless exciting demonstrations at Astrofest on Saturday, May 16.
BYU's planetarium director Dr. Jeannette Lawler estimated that 1,500 people attended Astrofest this year. The event allowed children to get hands-on experience that they may not be able to get at school.
"The whole idea is for kids to come out and see that science is fun," Lawler said. "This is a chance for them to come out and actually get to do science."
Sal and Chris Gutierrez had the opportunity to make craters with their children. They dropped Ping-Pong balls and marbles into a pile of hot chocolate powder and measured the holes these items created. The size of the holes provided information regarding the characteristics of the craters.
"It's great for the kids to understand what the possibilities of jobs and the possibilities of hobbies are," Sal Gutierrez said.­­­ "If you can explore the mind and stretch it a little bit, it can do anything."
Participants also learned about mars, meteorites, and dwarf planets, and even got to look at the sun through a telescope.
This year Alma Loveland brought her family to Astrofest for the first time. She thought Astrofest would be a great opportunity to expose her children to the campus and give them new opportunities to learn.
"We are actively trying to teach our kids science," Loveland said. "When we got the email [about Astrofest], we were reading it out loud to the kids, and they were getting more and more excited as the list of activities went on."
Loveland's son was enjoying himself so much that he did not want to take a break for lunch.
Attendees learned not only about space but also about the speed of light. Using a small laser and a motor, people could watch just how quickly light can move.
Ten-year-old Sam Bailey found the demonstration of the speed of light fascinating.
"The light was so fast that even though we knew the motor was spinning, the light stayed . . . and you couldn't even see it blink," Sam Bailey said.
Astrofest is hosted by the Department of Physics and Astronomy through sponsorship of David Derrick. It began in 2009 to celebrate the international year of the telescope, and the event has taken off every year since.
More Information on This Article
News and Events