Vatican Astronomer Bridges Faith and Science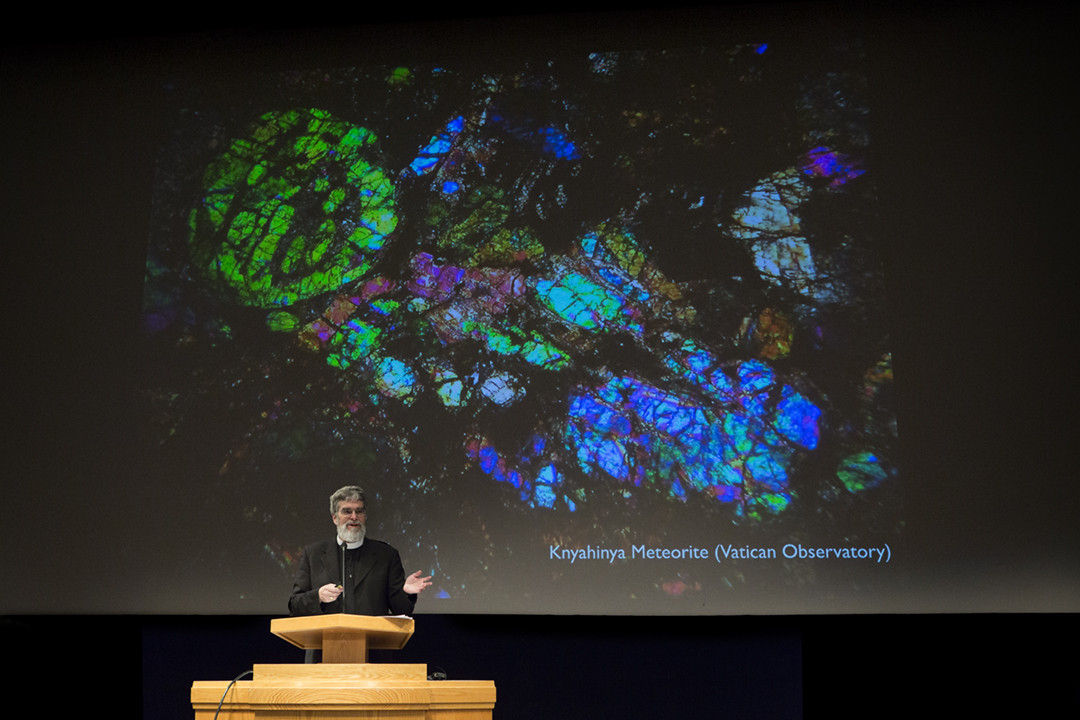 For Brother Guy Consolmagno, science and religion have always been intertwined, and to separate them would be to deny God's creations.
Consolmagno, who is a planetary scientist and the director of the Vatican Observatory, spoke at this year's Summerhays Lecture at the Joseph Smith Building on March 10, 2016.
Being both an accomplished planetary scientist with degrees from the Massachusetts Institute of Technology and the University of Arizona, and a member of the Jesuit order since 1989, Consolmagno described his faith as a catalyst for him studying, pursuing a career in, and loving science.
"My belief in God is one of those axioms that makes my belief in science possible," Brother Consolmagno said. "My life of faith is essential to my life of science. My science depends on God."
The Vatican astronomer mentioned many scientists, ancient philosophers, and theologians, including Ludwig Wittgenstein, Jean Buridan, and Nicolas of Cusa, when delineating the history of the study of science. He even mentioned a memorable encounter that he had with actor William Shatner that helped him untangle the issue of faith versus religion.
"Oddly enough, it was Captain Kirk who helped me make sense of that dilemma," Brother Consolmagno said. "As we talked, it suddenly became clear to me something that was so obvious to him that I had never grasped before—he saw religion and science as two competing sets of truths. Two big books of facts."
But Consolmagno explained that science and religion can work together in order to reveal more about each other.
"Science is not a big book of facts," Brother Consolmagno said. "And likewise, our faith is not based on rigid uncertainties. Closing your eyes to the reality around you—that's not faith."
Moreover, Consolmagno stressed the importance of the communities of science and religion, as well as the intersection of both of those communities.
"We see that community is essential for doing science; it's also essential for finding and worshipping God," Consolmagno said. "Who is this God who makes science and worship possible? Someone who loves to get together, someone who loves to get people together—to sing together, to dance together, to pray together, to explore together. A god of community."
Besides the intertwining of faith and science, Consolmagno discussed pursuing science for the sake of success versus pursuing science for the sake of loving science.
"Maybe you can get a glimpse of what I mean when I say that there is God at the center of all science," Consolmagno said. "If we didn't experience love in this work, we wouldn't do it. And God is love."
At the end of the lecture, Consolmagno talked about life-changing experiences that he has had as a teacher including moments where he helped students discover the wonder of science. These experiences helped him to bridge science and religion.
"Science needs the sense of awe and that tells me the one last and most important trait of God—a God who is awesome," Consolmagno said.
More Information on This Article
News and Events