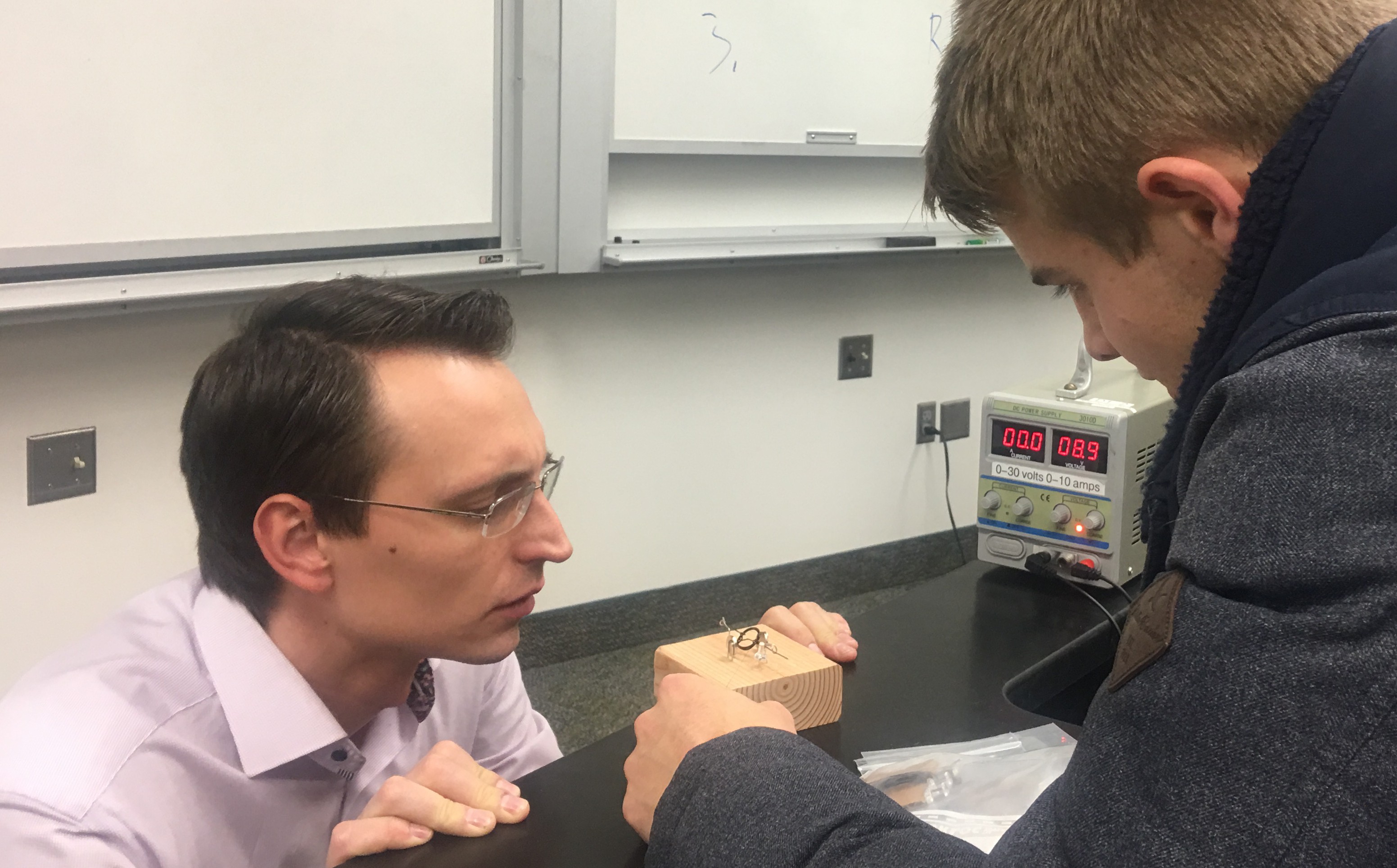 Students of the Physics 106 afternoon section participated in an extra credit opportunity that took hands-on learning to a new level. Inspired by a classic MIT challenge, Professor Della Corte gave each student a small kit containing two thumb tacks, two paper clips, six feet of copper wire, two neodymium magnets, and a block of wood. He then sent his students on their way with limited instructions: Design your own motors, only using materials from the kits. Any drop of glue or strip of tape would disqualify them.
Della Corte explained his method behind the motor madness. "I think that students master concepts more effectively from having the opportunity to put into practice the theory they learn during the lectures," he said. "By having a hands-on experience like this, students get exposed to some of the engineering questions behind building a real motor."
After three weeks of engineering time, Students gathered to test out their finished products. Della Corte and his assistants measured RPMs (rotations per minute) of the motors, and every thousand rotations earned the student 1% of extra credit.
About thirty students took turns coming to the front of the classroom and measuring their motor's RPMs. Della Corte kept track of each motor's RPMs by putting its score next to the student's name on an Excel sheet that showed up on the projector.
"800 RPMs!" Della Corte exclaimed. "That's a free assignment!"
Each student nervously took their turn, hoping that the motor would behave the same way it did when they practiced at home. Every now and then, success would strike.
"Looks like we have a new winner!" Della Corte announced intermittently, as one student's RPMs beat the previous high score.
Fifteen students ended up with fully functioning motors. The top three motors with the highest RPMs were Ryan Layton with 1,100 RPMs, Rachel Campbell with 1,085 RPMs, and Trevon Galbraith with 980 RPMs.
Others, like pre-med student Stephen Buma, ran into obstacles. They couldn't get their motors to work and walked away without extra credit. "I'm actually a little disappointed right now," he said. "Mine got busted in my backpack, so it probably won't work." Regardless, Buma said it was really interesting to learn how motors work.
At the end of the night, Della Corte reflected on the activity with a smile. "I think that it was a success. We have 15 working motors," he said. He is already thinking about next year. "I think that we could get more RPMs out of the kits. Next year, we'll probably have a higher success rate, so I will repeat it at least one more time and see if we make any progress."
News and Events